Our Guarantee

Totally Soccer guarantees your soccer uniforms by Game Day! Buying direct from the factory saves money and speeds delivery. Team turnarounds in 1-10 days with club orders in 1-5 weeks - includes persoalization.
How to Buy Soccer Jerseys
Frustrated trying to buy soccer jerseys? Stop the mayhem! Teams find buying soccer jerseys a snap with Totally Soccer. Simply put: we're easier, cheaper and faster – it's our driving mission! Here's how we make buying soccer jerseys easy for purchasers:
---
Select Style

Select from 20+ soccer jerseys for kids, women and adults.

Select Color

Sixteen base colors in each package ensures we'll have what you need. Or create custom color jerseys at no extra charge!

Select Sizes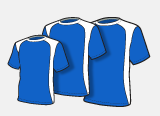 Jerseys from YXS to AXXL - finally, every team can be outfitted comfortably in performance gear!

Personalize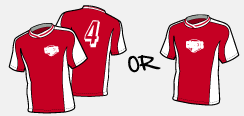 To keep it easy, your soccer jerseys include free personalization of your custom team logo and back numbers

Copyright © 2011 Totally Soccer LLC. All rights reserved. | Sitemap