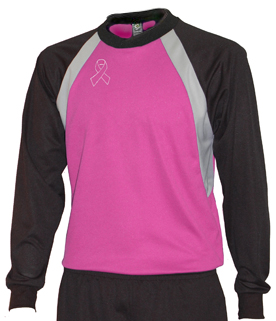 Call 888-660-8326
Note your colors and tell your rep you want:
Fortress Jersey
Product Description:
Support Cancer Research – Limited Edition!
$10 for sale of every jersey to cancer research
Defend the net & Save us from Cancer!
Long-sleeve keeper jersey in pink for breast cancer
Features cancer awareness ribbon on right chest
Read the story about the Fortress Keeper Jersey
Sizes:

Pricing:
SIZE
QUANTITY
1-50
51-200
201-500
501+
YOUTH
$30.00
$30.00
$30.00
$30.00
ADULT
$30.00
$30.00
$30.00
$30.00
Includes jersey
plus free personalization
Ready to Order? Call Now!
888-660-8326
Need more information?
Get a quote in under 3 minutes

Copyright © 2011 Totally Soccer LLC. All rights reserved. | Sitemap