Custom Gordo Soccer Jerseys – From Vision to Reality
In with the Customizer…
Teams looking for a unique identity have really taken to our Customizer program. We rolled out the Customizer two years ago and the demand for these awesome soccer jerseys just keeps growing. You can check out how you can design your own soccer jerseys, but I wanted to actually show you an example. The team from Illinois just really wanted something where they knew they wouldn't encounter another team with a mass produced jersey. Using the interactive Customizer, they selected the Gordo jersey with a white base, red accent and black neck trim. I took a screen shot of the Customizer, which displays the custom jerseys you are creating.
Out with the Custom Soccer Jerseys!
And, here is one of the actual jerseys, modeled by Stiff Stanley, that was produced for the client: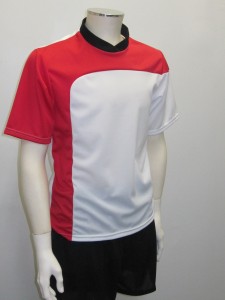 The jerseys were delivered in under ten days and were personalized with their team logo and number. If we can score some action shots or some team photos, we'll post them here as an update. Want to design your own custom soccer jerseys? Head over and check it out.
---